Guest Lectures

2019 
Public Lecture and Research Seminar with Prof. Olivia Guaraldo, 20.11 2019,
2
018
Prof. Gareth Stedman Jones: When did Marx think capitalism would fall? , December 6th, 2018
November 6th, 2018  –Dr. Ralf Balke:  The Self-Nazification of the the German Colonies in Palestine.
2017
December 12th, 2017  –Prof. Kirk Wetters (Yale University): Dominic Word Literature
December 7th , 2017  – Prof. Alex Guilherme (Pontifida Universidade Catolica do Rio Grande do Sul, Brazil): God as Thou and Prayer as Dialogue: Martin Buber's Tools for Reconciliation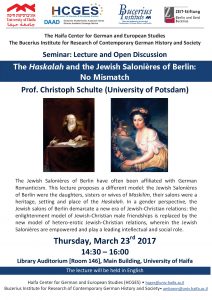 March 23rd 2017 – Prof. Christoph Schulte:The Haskalah and the Jewish Salonières of Berlin: No Mismatch
To view pics, please click here
2016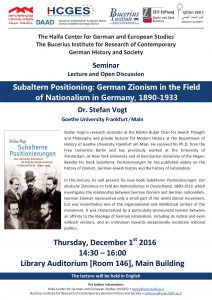 December 1st 2016  – Dr. Stefan Vogt: "Subaltern Positioning: German Zionism in the Field of Nationalism in Germany, 1890-1933"
To view pics, please click here
Thursday, June 16th 2016 – Dr. Angelika Timm (Berlin): "Politics and Memory: Israel, the two German states and Austria"
Thursday, June 9th 2016 – Dr. Clemens von Goetze (The German Ambassador in Israel): "The Current Crises in Europe and Present and Future of German-Israel Relations"
Wednesday, May 25th 2016 – Prof. Dietmar Goltschnigg (University of Graz): Karl Kraus im Urteil literarischerund publizistischer Kritikliterarischer und publizistischer Kritik
Thursday, April 14th 2016 – Mr. Doron Arazi: Ostracism, Acceptance, Admiration: German Brands in Israel between Holocaust Memory and Consumer Pragmatism, 1929-2016
Thursday, March 31st 2016 – Dr. Giacomo Petrarca: The concept of silence in Franz Rosenzweig and Henri Bergson: a comparison
Thursday, March 17th 2016 – Prof. Derek Penslar: Theodor Herzl, Race and Empire
Tuesday, March 15th 2016 – Dr. Herbert Lappe: The Holocaust Remembrance in Former East Germany (GDR)
Thursday, January 7th, 2016 – Prof. Richard Wolin: Metapolitics". Anti-Semtism and the History of Being in Heidegger's Black Note Books
2015
June 17th, 2015  – Dr. Fernando Vidal: Endangerment, Biodiversity and Culture
June 11th, 2015  – Prof. Margaret Olin, Yale University: The Art of Describing. Redundancy, Transformation, Impersonation
May 25th, 2015  – Dr. Sasha Dehghani, Research Department of the Baha'i World Centre Haifa: From the Templers in Haifa to the Temple in Frankfurt – A Century of German Baha'i History
March 19th, 2015 – Prof. Sander Gilman, Emory University Atlanta:The Jewish Body and the other Protruding Organs
Book review in Hebrew: www.haptiliya.com, www.news1.co.il, www.bac.org.il, www.alaxon.co.il
March 11th, 2015 – Tuvia Tenenbom: Jewish Theater of New York: Catch the Jew
January 28th, 2015 – Prof. Pierre Jorris: Two Folds. A Poetry Reading with NIcole Peyrafitte and Pierre Jorris
January 15th, 2015 – Prof. Atina Grosmann, The New York University: Defining "Survivors". Jewish Refugees in the Soviet Union and Iran
January 8th, 2015 – Prof. Jack Jacob, The New York University: The Frankfurt School, Jewis Lives and Antisemitism
2014
Dezember 18th, 2014 – Prof. Robert Howse, The New York University: Leo Strauss, A Man of Piece
Dezember 11th, 2014 – Dr. Elad Lapidot, Freie Universität Berlin, "The Translation of Philosophy from German into Hebrew: Sein und Geist" 
Dezemebr 4th, 2014  – Dr. Michael Dauderstaedt, Friedrich Ebert Foundation: Inequality and Growth: The Case of Germany
November 11th, 2014 – Dr. Cathy Gelbin, University of Manchester: Hotel Patriots? German-Speaking Jews in Modern Cosmopolitanist Thought
November 6th, 2014 – Prof. Wolfgang Lauterbach, University of Potsdam: Educational, Social Mobility and Wealth
.