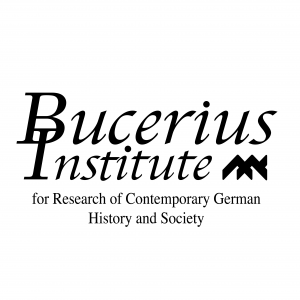 The Bucerius Institute for Research of Contemporary German History and Society
The Bucerius Institute at the University of Haifa promotes research on contemporary history and on the social, cultural and political reality of Germany. It addresses different disciplinary backgrounds and methodologies, historical periods and immediate geographical contexts, to bring to the fore aspects of modern German and Jewish history, and to reveal the complexity of contemporary German history. The Bucerius Institute was  established in 2001 by the ZEIT-Stiftung Ebelin und Gerd Bucerius and its chairman Prof. Dres. H.c. Manfred Lahnstein. Its basic idea is to foster greater familiarity and understanding of modern Germany among the academic community as well as among the Israeli public, and create a bridge between Germany and Israel in particular. The Bucerius Institute realizes its perceptions on three levels:
1. Research: The Bucerius Institute conducts through its academic staff own researches in a broad range of topics within the fields of its interests such as German and Jewish History, Philosophy, Sociology, Science, Photography, Racism, Immigration, German-Israeli relations and more. The institute also supports its researchers with the means of financial aid, helping them with expenses that may arise in the publishing process.

2. Academic Events: The Bucerius Institute organizes various public activities in order to facilitate direct encounters between Academia and the broader public. These events include the following: 
Inviting international guest lecturers and visiting research scholars to give lectures and seminars under the institute's auspices
Conducting academic workshops, seminars, conferences and organizing special events such as film festivals or musical and theater performances
Hosting international delegations
3. Scholarships and Academic Exchange: The Bucerius Institute facilitates academic exchange between Germany, Europe, US and Israel at different levels: M.A., Ph.D, Post-doc.
It offers financial support to students of the University of Haifa whose thesis or dissertation addresses the research interests of the Institute.
Each year, the Institute offers financial support to foreign young researchers (Ph.D. or M.A. students and post-docs researchers), who are in the process of writing thesis, dissertation or an article in the Institute's fields of interest.

The ZEIT-Stiftung
Hamburg's liberal spirit and Gerd Bucerius' open-minded way of thinking are the two sources of inspiration that have made the ZEIT-Stifung Ebelin und Gerd Bucerius what it is today. The foundation promotes research and scholarship, art and culture, as well as education and training. It also initiates debates on political and social topics and provides forums for digital development.
As a lawyer, Gerd Bucerius kept a critical distance from the Nazi regime. In 1946 he founded the weekly newspaper DIE ZEIT in Hamburg, and established the not-for-profit ZEIT-Stiftung in 1971. Gerd Bucerius regarded it as his public duty to engage in a wide range of social debates. His passionate interest in politics, the economy, and culture shaped DIE ZEIT, and the foundation, which bears his name as well as that of his wife Ebelin, follows in this tradition.
The ZEIT-Stiftung promotes innovation in higher education, and founded the first private law school in Germany, the Bucerius Law School. The ZEIT-Stiftung contributes to the humanities and social sciences through its scholarship program Trajectories of Change. The foundation also funds programs that promote access to education and training and lifelong learning. Further investment is aimed at developing a free press in Eastern Europe.
The Bucerius Kunst Forum was founded in 2002 as the flagship for the foundation's investment in art and culture. The foundation has a keen interest in the cultural heritage and provides funding for the archiving and conservation projects. Aiding young artists in theatre and music and funding special museum projects are further areas of investment. The foundation's international activities are centred on Central and Eastern Europe as well as Israel, with a strong emphasis on intercultural dialogue.
Home Page of the ZEIT-Foundation 

Gerd and Ebelin Bucerius: two lives devoted to DIE ZEIT – and to each other
 The broad scope of his career is breathtaking: Gerd Bucerius was a lawyer, publisher, politician – and benefactor. His wife Ebelin for many years was managing director of the ZEIT publishing house.
Having completed his law studies, Gerd Bucerius, born in 1906, began working as a lawyer under the Nazi regime, and took on Jewish clients. In 1945, he embarked on a political career, initially as Senator for Building and Construction in Hamburg. From 1949 until 1962 he served as a member of parliament in the Bundestag in Bonn as a critical back-bench member of the Christian Democrat Party (CDU).
During this period, he also founded DIE ZEIT in 1946. Over many years, the losses of the weekly newspaper were compensated for by the profits from the magazine Stern. In 1965 Gerd Bucerius merged his majority holdings with the publishing house Gruner und Jahr. He later swapped these shares for stocks in the Bertelsmann company. DIE ZEIT was removed from the media company, based in Gütersloh, and was from then on published by the independent Zeitverlag. Gerd Bucerius continued to maintain close links with the newspaper as a publisher, adviser, and journalist, often contributing critical opinion pieces. Shortly before his death, he ordered the sale of the newspaper to the publishing group Georg von Holtzbrinck, and this was completed by the ZEIT-Stiftung in 1996.
Ebelin Bucerius, born Anna Gertrud Müller in 1911, supported Gerd Bucerius during the Nazi dictatorship. They married in 1947. In Bonn, she was in charge of the residence of her parliamentarian husband, and with her wit, charm, and straightforward manner, made it a social hub. In 1951 Ebelin Bucerius is made managing director of the Zeitverlag. Her main responsibility is the sale of advertising space in DIE ZEIT and Stern magazine. Her talents helped steer DIE ZEIT through difficult economic times. Due to poor health, her last years were spent in Switzerland.
Following the deaths of Gerd Bucerius (1995) and Ebelin Bucerius (1997), the ZEIT-Stiftung inherited their joint fortune. A biography by Ralph Dahrendorf, "Liberal und unabhängig. Gerd Bucerius und seine Zeit", gives a detailed account of Gerd Bucerius' multi-faceted life that without the fundamental contributions made by his life partner Ebelin Bucerius, would undoubtedly had been poorer.