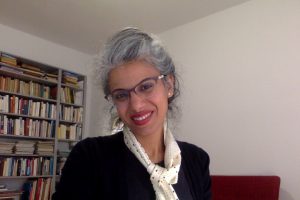 Research Fellow – Dr. Yemima Hadad
Dr. Yemima Hadad holds the Juniorprofessur für Judaistik at the University of Leipzig. Dr. Hadad teaches Modern Jewish Thought, German-Jewish Philosophy, and Talmud. Her research interest is focused on Political Theology, Continental Philosophy and Jewish Thought in the 20th century. Her Doctoral dissertation (2021) demonstrates the significance of Hasidism in explaining the political tenets of Martin Buber's thought. She is currently researching Modern Jewish responses to the German concept Vaterland, and the theological foundations of Buber's binationalism, and the modern Jewish reception of Hasidism as a form of liberal politics.
CV
2013-2021        Ph.D. summa cum laude. School of Jewish Theology. University of Potsdam, Germany.
2007-2011        M.A. summa cum laude. Department of Philosophy. Tel-Aviv University, Israel.
2006-2007        Complementary studies to M.A in Philosophy. Department of Philosophy, Tel-Aviv University.
2002-2005        B.A. Department of Behavioral Sciences (focus on psychology). Ben-Gurion University, Israel.
Publikation