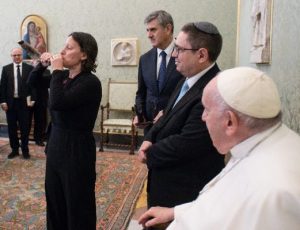 Our Adjunct Researcher Silvana Kandel Lamdan has come back from an important visit to the Vatican and meeting with the Pope. She shared her impressions with us:
A few weeks ago, I experienced one of the most intense experiences of my professional life.
I had the privilege to participate in a small delegation of rabbis and community leaders of the Seminario Rabínico Latinoamericano invited for a private audience with no less than Pope Francis.
It is possible to be cynical about the setting and rules of protocol (and there is no shortage of reasons to be so). But I choose instead to be grateful for the opportunity to personally meet a figure who is so meaningful and representative for at least one billion (!) people around the world, to admire his generosity of heart in welcoming our delegation so warmly, and for the deep interest he showed in the conversation with the group and with each of us separately.
Nothing about my being there must be taken for granted: an Argentine-Israeli woman rabbi (who can now be honored with the title "the first woman to blow a shofar at the Vatican"), a granddaughter of Shoah survivors and tireless interfaith dialogue activists, a peace and social justice seeker comforted to find such a partner for tikkun olam, and a scholar immersed for the last five years in the endless shelves of the library of the University of Haifa (and others), studying intellectual interchanges between Catholicism and Jewish thought in the complex modern age.
I feel that my different identities merged in that meeting and burst forth as a raising spring of pride.
In a place that has witnessed countless obscure events throughout history, a new story is beginning to be written, and I am privileged to be among its pages.
I am sure that this experience will give me inspiration and strength to continue working to open more doors for conversation, research, and action, that hopefully will increase light in a world that so desperately needs it.